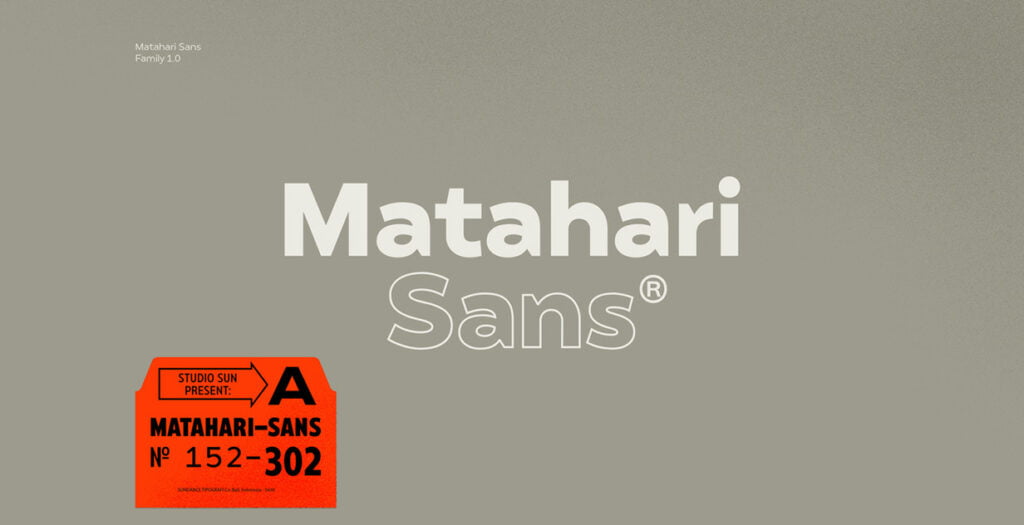 30,000+ Best Fonts Download
Matahari Sans Font is the power source of life. The symbol of power and energy that synergies with other part of daily lives. It is one of the most fundamental thing us humans need, just like communication. And like Matahari itself, words are powerful enough to make a living. Referring to Grotesque Font and influenced by the works of Eric Gill, Matahari Typeface is available in 3 widths and 7 weights, also in Oblique version in each font.
The font uses oldstyle and transitional letters (double-story 'a' and 'g'). It has a humanist gesture, the thickness of the font is semi-monolinear where the horizontal and vertical size is almost equal, making the font reach its maximum optical readability even in small sizes. The font anatomy refers to the basic geometric square-sized of the letter 'M', while the letters of S/C/G/c/e have uneven curve shape which give the sense of humanist and flexibility.
This typeface is ideal for various design needs, from Printing to On-Screen/Digital Reading, from Brand Identity, Posters, Caption, Headline, to Body Text. With the numbers of widths available, the font can be used for all kinds of purposes (Label, Signage, Packaging, Website, etc). Supported well over 75+ languages, including Greek & Cyrillic, Matahari Typeface will give you an excellent way in aesthetic communication and message-delivering.
Matahari Sans Font is free for PERSONAL USE. Link to purchase full version and commercial license : BUY HERE
Matahari Sans Font Family
License: Personal Use Only!
Font Type: Free
Format: OTF
Total Files: 1
Download Search Fonts